Bezzera BZ10
An outstanding semi-automatic, fairly new to American shores. Solid, robust, and reliable.
Recommended for: Coffee purists, power drinkers, busy office environments, people with limited counter space.
Note that the BZ10 has been updated just recently. The updated model features toggle switches for the power and pump in place of the older push buttons.
$1,649.00
×
Product prices and availability are accurate as of the date/time indicated and are subject to change. Any price and availability information displayed on Amazon.com (Amazon.in, Amazon.co.uk, Amazon.de, etc) at the time of purchase will apply to the purchase of this product.
4 new from $1,649.00
An Overview of the Bezzera BZ10 Espresso Machine
Are you in the market for a top-notch semi-automatic espresso machine, but are the kind of person who wants something a little off the beaten path?
If so, then you're going to love our in-depth Bezzera BZ10 review. While the company has been around for more than a century, this machine has only been selling in the US for a couple of years, and as such, almost none of your coffee aficionado friends will have one, and some of them may not have even heard of it.
It represents a significant upgrade from most of the prosumer quality machines currently sold here, for two reasons, both of which we'll cover in detail in this review, along with everything else this model is capable of, and outline the few things it just wasn't designed to do.
By the end, we think you'll agree – even if you opt for some other model, the BZ10 would be a solid, reliable choice!
Bezzera Espresso Machine Reviews - Variants
If you're looking to find information on the Bezzera BZ10 PM and BZ10P models, we have some information that might help.
Based on Bezzera's website, the BZ10 is just the same model as the Bezzera BZ10P or BZ10 PM that you can find everywhere-else. It appears that Bezzera adds the letters "PM" to all of its products that do not have a PID controller. So, even though the BZ10 model does not have a PID version, the company still adds these letters to emphasize its distinction.
Bezzera BZ10 Coffee Machine Features & Specifications
Form Factor, Footprint & Aesthetic
The first thing you'll notice about the Bezzera BZ10 is its rugged, industrial appearance. Dressed all in highly polished stainless steel, and sporting an old-school design, this machine looks like it stepped out of a bygone era and wound up on your kitchen counter, with levers, knobs, gauges and simple switches taking the place of LEDs and modern electronics.
Immediately after that, you'll notice the unit's surprisingly small size. Measuring just 9.8" x 14.7" x 16.7," this is not a machine you'll have any particular difficulty finding a permanent home for, and in the vast majority of cases, it should fit under your kitchen cabinets.
Don't let its small size fool you though, this beast weighs an impressive 42 pounds, and is capable of keeping pace with even the most voracious coffee drinkers!
Reservoir Size
This is an important part of our Bezzera BZ10 review and is always the first thing we check when investigating any new machine. As power drinkers, there's no such thing as a water reservoir that's "too big," in our book, and the BZ10 doesn't disappoint on that front!
Boasting an impressive, top-loading 3-liter water tank, it has sufficient capacity to service large households and busy office environments. Given the size constraints of the machine, about the only way to improve on this would be if it was possible to run a dedicated water line to the unit, which sadly, isn't part of its design.
Even without this though, a 3-liter (104-ounce) reservoir offers plenty of capacity and should keep you suitably caffeinated all day long.
Note that the BZ10 Bezzera's water reservoir does not have and is not designed to accept a water filter, which means that you'll either have to use distilled water in the machine, filter it at some other point, or resign yourself to periodic descaling.
No Integrated Grinder
The BZ 10 is a semi-automatic, and as such, it doesn't have an integrated grinder. If you're looking for an end to end "beans to brew" system, then you want a super automatic, and we've reviewed many excellent models.
A Few Notes On Grinders
In some ways, the lack of an integrated grinder can be seen as a positive anyway.
One of the drawbacks of getting an all in one machine is that you're saddled with whatever the manufacturer decides to give you, and most (but certainly not all) of the grinders on superautomatics only offer 5-6 different grind settings.
That matters because the more grind settings you have to work with, the more you can fine-tune the flavor of whatever drink you're making. By purchasing the grinder as a standalone, you're guaranteed to get exactly what you want!
Another advantage is this: Most super automatics recommend against using Dark Roast beans because their high oil content can clog both the grinder and the brew group, which can lead to more frequent maintenance and shorten the life of the grinder's motor.
This is less of a problem with standalone grinders and is virtually nonexistent if you opt for a manual one.
Since you're going to have to get a grinder to pair with your machine, here's our recommendation: Get the best ceramic burr grinder your budget will allow.
Blade grinders are cheap, but they don't grind your beans as much as smash them, resulting in grounds that are highly inconsistent. Stainless steel burr grinders, on the other hand, are decent but have a tendency to heat up when used, which can burn your grounds and ruin the flavor of your coffee.
The main point here is that if you're going to spend the money to get a top-quality semi-automatic espresso machine, you won't be doing yourself any favors by pairing it with a cheap grinder.
The Boiler System
Here's where things get interesting. Although the Bezzera BZ 10 is a single boiler machine, it uses a heat exchange system that allows you to simultaneously steam milk, dispense hot water, and brew coffee. Normally, you'd need a double boiler system to do that, which makes this a great innovation indeed.
The boiler itself has a 1.5-liter capacity and is nickel-plated copper, where most other machines on the market today use aluminum boilers, lined with stainless steel.
That, combined with the fact that the BZ10 gets its name from the brew group it uses, which is electrically heated and offers faster and more stable heat than machines using the venerable E-61 brew group, and you've got a real winner.
Note that the boiler temp is capped at 266 degrees (Fahrenheit) to prevent overheating.
Telescoping Coffee Spigot
This will be a relatively short section because as a semi-automatic, the Bezzera BZ10 espresso does not have telescoping coffee spouts. The spouts are built onto the bottom of the portafilter, and thus, are fixed-position.
Note that when you buy your machine, you'll get two portafilters (one for single, and one for double shots), as well as a backflushing disc (which we'll have more to say about later), water hardness testing strips, a brush for cleaning the brew group, and a plastic tamper.
This last is probably something you'll want to upgrade, and we were a bit disappointed by the fact that Bezzera opted to include a cheap tamper with the machine.
Brew Unit and Control System
This is the heart and soul of any espresso machine, and the BZ10 is no different.
As we mentioned earlier here in our Bezzera coffee machine review, this model gets its name from the BZ10 brew group it uses, which is a significant upgrade from the E-61 brew group found in most of the prosumer machines sold on the American market today.
Being electronically heated, it provides greater temperature stability and faster heating, which means less wait time. Combined with the heat exchange system, the end-result is that you can pull shots and make milk-based drinks faster on this machine than you can on any single boiler system built around the E-61 brew group.
Because all the controls are old-school, it's not a difficult machine to master. Everything is well laid out, and exactly where you'd expect to find it, and even if you've never seen a semi-automatic machine before, you can simply look at it and intuit what most of the levers, knobs, and gauges do.
All that to say that by the time you run through the initial setup, you should have a firm handle on the machine's basic operation, and will be able to pull your first shot with confidence.
No Bezzera BZ10 PID
Our discussion of the brew unit and control system would not be complete without making mention of the fact that the BZ10 does not have a PID on the front face of the machine, so there's no way to precisely control the boiler temperature.
If that's a feature you've got your heart set on, then you'll be interested in the Bezzera Unica.
A Few Words About Espresso vs Brewed Coffee
Before we turn our attention to the gauge on the front face of the machine, we should say a few words about the key difference between how drip brew coffee is made, versus how espresso is made.
You probably enjoyed a hot cup of coffee from a drip brew machine when you started your day this morning. They're ubiquitous appliances and have found their way into most American homes.
These machines use gravity to convey the coffee from the grounds chamber into the pot below. Espresso machines don't use gravity, relying on pressure instead, and pressure is measured in bars, with one bar being equal to atmospheric pressure at sea level.
Pressure Gauge
The gauge on the front face of the BZ10 has two needles. One measures the pressure inside the boiler, and the other measures the pump pressure.
The last needle is an especially nice feature because knowing that it takes 9 bars of pressure to pull a world-class shot of espresso, you'll never have to wonder if your pump has enough pressure to do the job.
Even better, you can adjust the pressure output, armed with nothing more than a flat-head screwdriver, so if you notice that it's falling off, it's easy to make on the fly corrections, and being able to see the precise amount of pressure also allows you to experiment with higher or lower pressure extraction techniques if you feel so inclined.
Milk Frothing System
This is a real strong point in the Bezera BZ10's design, and not just because the heat exchange system allows you to simultaneously pull shots and steam milk.
That's a great feature, for sure, and the ability to draw-on-demand steam and hot water is a big selling point by any reckoning, but what you'll really enjoy is the fact that the steam function is powerful!
We did another review on a Quick Mill model, the Silvano, which is another single boiler system that offers the ability to simultaneously steam milk and pull shots.
Unfortunately, its implementation is somewhat weaker than the BZ10's, and as a result, it didn't score quite as well. It's not that the milk steaming function is bad on the Quick Mill machine, simply that the BZ10 has a stronger implementation. At any rate, it's well worth checking out the other review for the sake of comparison on this front.
If you're new to the world of specialty coffee, you may find the steam wand to be a bit intimidating, but don't let that stop you from experimenting! While it's true that the wand takes practice to learn to use well, it's not especially difficult, and once you've mastered it, you'll be able to dazzle your friends with your Barista skills.
Even so, you can count on the fact that your first three or four milk-based drinks won't turn out quite the way you had hoped, but if you stick with it, you'll be an ace in no time!
Cup Warming Tray
As with most machines in the prosumer class, the Bezzera BZ10 coffee machine does indeed have a cup warming tray, and if you're new to the world of specialty coffee, it plays a more important role than you may think.
The reason is this: specialty coffee drinks (especially milk-based ones) were meant to be enjoyed at temperatures lower than most Americans like to drink their coffee.
One of the biggest and most pervasive complaints we see regarding espresso machines sold on the American market is that the coffee just doesn't get hot enough, and one of the hidden culprits that steals temperature from specialty drinks is the heat you lose when you dispense your drink into a cold cup.
To get a good feel for how much of a difference this makes, try a simple experiment. Pull two shots, or better yet, make two of your favorite milk-based coffee drinks. Dispense the first one into a cold cup and the second into a cup you've had sitting on the warming tray for a while. You'll be astonished at the difference in temperature, and it will make you a cup warming tray convert if you weren't one already!
Joystick Steam Wand
One final thing to note in this section of our BZ10 Bezzera review is that you're almost certain to grow to love the joystick action and full articulation of the wand and the hot water dispenser. It connects you to the process of crafting the drinks you make and gives using the machine a decidedly Old World feel.
That's not something that will make or break the purchasing decision for most people, but it's a nice touch, and well worth drawing attention to.
Easy to Use, Easy to Clean
With clean lines, old-school hardware, and a no computer controls, Bezzera BZ10 is a straightforward machine that's easy to use. If you have any questions or problems, you'll find the user manual to be well written and genuinely helpful, which isn't always the case with other models and manufacturers.
Cleaning is likewise a straightforward affair, with the proviso that as a semi-automatic, there are no self-cleaning components to the device. Everything has to be done by hand, by you.
Broadly speaking, here are the tasks you'll need to attend to on a regular basis:
Backflushing
This last item bears a bit more discussion. Backflushing in a semi-automatic machine is what cleansing tablets are to a super automatic. Simply put, it's the means by which you keep the brew group clean.
Simply load the backflushing disc into the portafilter, add a small amount of cleansing agent designed for espresso machines, and cycle the pump on and off a few times to work it through the system. Do that about once a week, augmenting with the brush as needed, and you'll be all set.
Given the high-quality components this model is built with, and its rugged, stainless steel construction inside and out, with proper care, there's no reason that this machine shouldn't provide you with a decade or more of reliable service, and that, as much as anything else, makes it a tremendous value for the money.
Pros & Cons of the Bezzera BZ10 Espresso Machine
There's a lot to like about the Bezzera 10, and we think our review to this point is reflective of that.
In our view, the one failing of the machine is that it doesn't give you any means to precisely control the boiler temperature, and that's the one change we'd really like to see, in retrofit form, if nothing else.
Otherwise, it's rock solid, and we wouldn't change a thing.
Bezzera BZ10 Review Conclusion
And that's a wrap on our Bezzera BZ10 review. It is an excellent machine that exists on the dividing line between the commercial and residential worlds. It's certainly robust enough to keep pace with a business environment, but compact enough to easily fit into most home kitchens.
This model has a lot going for it, from its robust design to its simple, intuitive controls and operations. We highly recommend it to anyone who's looking for a high-quality semi-automatic, although we'll note that the Unica (also made by Bezzera) offers slightly more control, thanks to the addition of a PID on the front face of the machine, for about the same price.
Best Online Offers for the Bezzera BZ10
$1,649.00
4 new from $1,649.00
as of March 18, 2020 9:52 pm
Amazon.com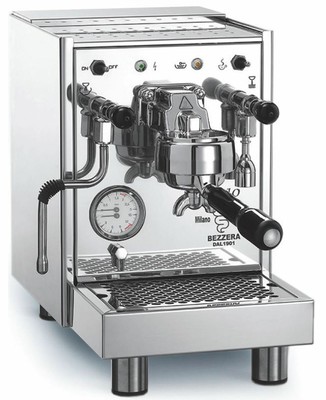 Ebay.com
---
Coffee Dino Also Suggests:
---