Let's start with an at-a-glance comparison of these two great machines to give you a top-level view and some indication of their capabilities:
---

Which Is Better?

Quick Mill Alexia vs Rancilio Silvia​​​​​

Last update: September 30, 2022 9:42 pm

Last update: September 28, 2022 3:57 am

"Temperature Surfing" – Optional PID Retrofit

Fully Articulated, No Burn Steam Wand

Fully Articulated Steam Wand

Generously sized water reservoir, fairly easy to use and master. Quite forgiving to new users and easy to learn on. A robust, well-rounded machine.

A smaller unit, ideal for those with limited space. Full-featured, and capable of making virtually any specialty coffee drink you can imagine.

If you love milk-based drinks, you may find the steam wand to be annoyingly slow.

A very unforgiving machine. Not newbie friendly, even with the PID retrofit.

Our overall winner. Best suited to larger households, and much easier for newbies to learn on.

Best suited to smaller households, people who are already experienced with espresso machines, and those who love milk-based coffee drinks.
Overall Winner: The Alexia by, Quick Mill!
Quick Mill Alexia EVO Espresso Machine
Quick Mill Alexia
A stunning semi-automatic, capable of keeping pace with even the most rabid coffee drinkers. This machine is your passport to specialty coffee Nirvana.
Recommended for: Power drinkers, large households, busy offices, and coffee purists who insist on maximum control over the drink making process.
A Deeper Look
If you're in the market for a robust, full-featured semi-automatic espresso machine that's built to last, then you've probably seen or heard of both of these machines.
If you're on the fence and struggling to decide which machine is "right" for you, then you're going to love our Quick Mill Alexia vs Rancilio Silvia comparison review. These are exceptional machines, made by two legendary companies, and it's understandable that people find themselves torn between the two.
In our view, the verdict is clear, and overall, the winner between these two machines is the Alexia, by Quick Mill.
That, however, is a bit of an oversimplification, and you'll see exactly why in the sections that follow. While we regard the Alexia as being the better machine overall, the Silvia may be the better choice for certain segments of the market.
The two machines are fairly similar, but they do have some important differences. Armed with this information, let's take a deeper dive and see what they're all about!
Note: You can find our complete reviews on both of these machines here:
Form Factor, Footprint & Aesthetic
Size-wise, there's not much difference, although the Silvia is the slightly smaller machine. If you are short on kitchen counter space, that may be a compelling difference, but the Alexia isn't all that much larger, so it shouldn't be too big of a challenge to find either of them a permanent home.
In addition to being physically larger, the Alexia is also the heavier of the two machines. That follows, given that both of these models are crafted of solid stainless steel, inside and out, and are built to last.
Overall, the smaller size and lighter weight of the Silvia makes it the favorite of people with smaller households and tiny kitchens, but again – the size difference between the two is not extreme.
Reservoir Size (And Drip Tray!)
An important dimension in our Quick Mill Alexia versus Rancilio Silvia comparison and this builds on our earlier statement that the Silvia is built with smaller households in mind.
Its water tank is significantly smaller than the one offered by the Alexia, and the difference is even more pronounced where the drip trays of the two machines are concerned. In fact, the Alexia's drip tray is nearly as large as the reservoir on the Silvia!
Our Recommendation: Based on this feature alone, is that the Silvia is best for smaller households, while the Alexia is designed specifically with power drinkers and large households in mind.
The Boiler System and Temperature Control
Both machines use insulated copper boilers, which is a departure from the mainstream, as most of the other machines being sold today feature aluminum boilers that are lined with stainless steel. That marks both companies as being decidedly old-school, but that's also about where the similarities end on this front.
The Alexia offers a compelling advantage in the form of a PID on the front-face of the unit that allows you to digitally set the boiler temperature.
In its default configuration, the Silvia doesn't have anything like this, requiring those who use it to adopt what they call "temperature surfing," which is essentially an educated guess as to when the boiler is at optimal brewing temperature.
As you might expect, this makes using the Silvia a bit tricky, and it is widely regarded as being a harsh mistress. As such, this is not a good machine for a beginner. If you're new to the world of specialty coffee, you're going to feel as though this machine is actively fighting you on making good quality drinks.
Contrast that with the Alexia's user friendly E-61 commercial brew group, and it's clear that the Quick Mill machine is the hands-down favorite of new users if the choice is between these two machines.
Note that the Rancilio does offer a PID retrofit, which will add about $235 to the price of the machine. If you opt for the retrofit, most of the differences between the two on this front evaporate, although the Alexia's brew group is still superior in our view.
Our Recommendation: Alexia for beginners, Silvia for more advanced users who see crafting specialty coffee drinks as one part art, and one part science.
The Brew Unit and Control System
Another important component of our Quickmill Alexia vs Rancilio Silvia comparison is the brew group and control system, and here, we have to give the nod to the Alexia, which utilizes the venerable and exceptional E-61 commercial brew group.
It should be noted that both models have a similar design philosophy that minimizes the use of complicated electronics. You'll find old-school components dominating both machines: Levers, knobs, simple switches, and only a couple of basic indicator lights. As such, operationally, it's not difficult to use either machine.
The key difference stems from the fact that it's very difficult for a beginner to pull a good shot of espresso on the Silvia (minus the PID retrofit) on the first try, whereas on the Alexia, you can pretty much do it with your eyes closed.
With practice and patience, you can get comparable results on the Silvia, but there's the rub. A new user isn't going to have the requisite experience, and even an experienced Barista will need to spend some time "learning" the machine to get the timing right.
Our Recommendation: For us, this underscores the fact that the Silvia is not the machine for newbies, although either will appeal to DIYers who are interested in owning a machine they can repair and upgrade themselves.
Given their reliance on simple, high-quality components, either model will last well beyond the two-year warranty period – a decade or more with proper care.
The Milk Frothing System
Yet another vital component of our Rancilio Silvia vs Quick Mill Alexia comparison, but here, the shoe is on the other foot. Our view is that the Silvia has the superior steam wand, and by a wide margin.
Mostly, this is a function of the different emphasis the two companies had when designing the feature.
The Alexia's steam wand does an admirable job, but it tends to be slow – a side-effect of its "no burn" steam function. The Silvia's steam wand is immensely powerful, and if you're not careful, you can overheat the milk, but one thing's for sure, it offers significantly faster steaming and frothing than the Alexia.
This comes down to a matter of convenience. If you don't drink a lot of milk-based drinks, it won't make much difference to you, but if you tend to favor those drinks, then you'll likely find the Alexia to be a bit of a time sink on this front.
Cup Warming Tray
There's not much to say on this front except that both models have one, so essentially, this is a push from a feature perspective.
Ease of Use and Ease of Cleaning
While both machines are fairly easy to clean, it should be noted that they are semi-automatics. That means that there's no automation where cleaning functions are concerned. Everything has to be done by hand.
In terms of ease of use, the Alexia wins this category, thanks to the built-in PID and the E-61 brew group, although the Silvia closes at least some of the gap if you opt for the PID retrofit.
Our Recommendation: For us, this only underscores the notion that the Alexia is much more newbie friendly, and the Silvia is designed for households with 1-2 coffee drinkers, one of whom regards the drink making process as a mix of both art and science.
Pros & Cons of the Quick Mill Alexia Versus Rancilio Silvia
Despite their many similarities, our Rancilio Silvia vs Quickmill Alexia comparison has revealed some key differences, with each machine having unique strengths.
In our view, the best features and selling points of the Silvia are:
The Alexia's strongest points are:
Regarding weaknesses, the Silvia's biggest problem is the need to "temperature surf" without the PID retrofit, which makes it difficult to use. The Alexia has no weaknesses to speak of.
​Who Wins on Points?
We rated both of these machines on a number of dimensions. Here's how the two machines scored:
Quick Mill Alexia vs Rancilio Silvia
Comparison Table

A stunning semi-automatic, capable of keeping pace with even the most rabid coffee drinkers. This machine is your passport to specialty coffee Nirvana.

This is a solid machine with a well-respected history. Unfortunately, it has struggled to keep pace with more modern equipment.

Power drinkers, large households, busy offices, and coffee purists who insist on maximum control over the drink making process.

Not newbie friendly, but recommended for anyone else. But, with the PID retrofit, add 0.25 to the final rating of this machine
Who These Machines Are Made for
Based on the details we've covered to this point, we would recommend the Silvia for experienced coffee connoisseurs, who are on a budget, have limited space, and are the only serious coffee drinker in their household.
We'd recommend the Alexia for beginners and larger households or busy office environments.
Quick Mill Alexia vs Rancilio Silvia Review Conclusion
And that wraps up our Quick Mill Alexia vs Rancilio Silvia comparison review. While there are things we like about both models, in our view, the Alexia is simply the superior machine, and unless you live in a small household, will probably be the one you gravitate to.
The Silvia has a lot to recommend it, but it's just too twitchy for new users and lacks the capacity to keep pace with a busy household, filled with coffee aficionados.
Best Online Offers for the Quick Mill Alexia and Rancilio Silvia
$715.00
8 new from $715.00
as of March 15, 2020 9:09 am
Amazon.com
Ebay.com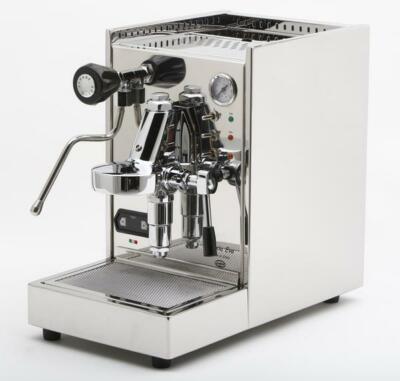 Ebay.com
Coffee Dino Also Suggests:
---